Make this easy, family pleasing Spicy Italian Sausage Penne recipe tonight!
I whipped up this meal last night in about 1 hour. I loved the outcome and definitely thought it was restaurant quality! This recipe is almost a one pot meal. The only other pan you need is a baking sheet to cook the sausages on. Cover it with aluminum foil and the baking sheet won't need cleaning. Yay!
You will start off by cooking the Italian sausage. Preheat the oven to 400F and lay the whole sausages on a aluminum foiled covered baking sheet. They need to cook for 30 minutes in the oven. Turn them over halfway through.
While the sausages are doing their thing, prepare your sauce. The rest of the recipe is so easy because it's all in one pot! Choose a medium pot and heat olive oil in it over medium heat. Then add onion, red pepper, habenero pepper and garlic. Then throw in a can of  stewed tomatoes ( I used one with garlic and olive oil in it) and a can of tomato sauce. Season with red pepper flakes, dried parsley flakes, salt and pepper. When the sausage is ready, slice and add them to the pot too.
Instead of cooking your penne noodles in a pot of boiling water, we are cooking them in the sauce. This infuses the noodles with the sauce flavour and also saves you from cleaning an extra dish. Add the penne to the pan and bring to a boil. Lower the heat to a simmer and cook until pasta is al dente.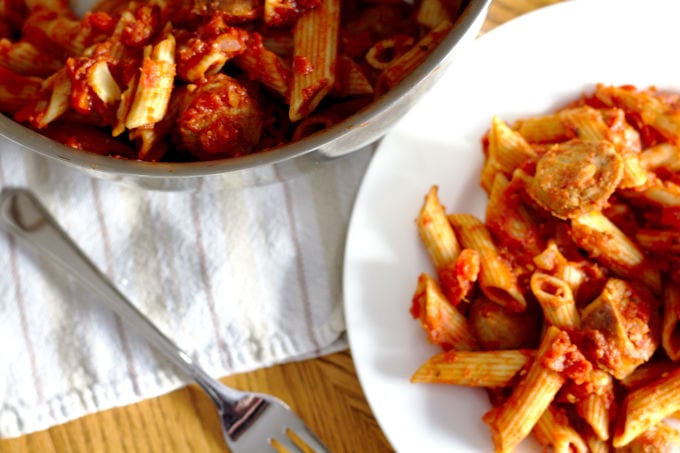 Enjoy,

Spicy Italian Sausage Penne
Ingredients
1 lb hot Italian sausages
1 tbsp olive oil
½ medium onion, chopped
½ red pepper, chopped
½ habanero pepper, minced
2 garlic cloves, minced
540ml can stewed tomatoes (I used a garlic and olive oil flavour)
398ml can tomato sauce
dash red pepper flakes
¼ tsp dried parsley flakes
salt and pepper, to taste
80z penne noodles, uncooked
Instructions
Preheat oven to 400F. Line a baking sheet with aluminum foil. Place sausages on foil and bake for 30 minutes, turning once, halfway through.
Meanwhile, heat olive oil in a medium skillet over medium heat. Add onion, red pepper and habanero pepper. Cook stirring occasionally until softened.
Add garlic and stir continuously for 1 minute. Add in stewed tomatoes, tomato sauce, red pepper flakes, dried parsley flakes, salt, pepper and penne noddles. Bring to a boil and then reduce heat to a simmer.
When sausages are ready, slice and add to the skillet. Cook stirring occasionally until penne noodles are al dente, approximately 20 minutes.
Leftovers can be kept in the refrigerator for up to 3 days.